Details
1 Hinged cover
The two-part cover made of impact-proof plastics folds when it is opened. Therefore, only little footprint is needed. The large panoramic window enables to check the material consumption and to track the full printing process.
2 Plungers
One plunger is fixed at the inner side. The second one is adjusted that far to the edge of the label until a good print image is ensured.
3 Rugged metal chassis
made of cast aluminum; basis to assemble all components
4 Peel-off function
Via the peel-off plate, the label is separated from the carrier material. Accurate imprint and dispense are achieved with the powered rewind assist roller and the pinch roller.
5 Periphery connection
Additional modules are easy to connect. All peripheral devices are plugged to the printer with two pins and fixed with a screw.
6 Ribbon holder
Fast and easy exchange of the ribbon is enabled with the three-part tightening axles.
7 Roll holder
The spring-mounted margin stop with a screw cap enables constant tension during material feed and therefore improves accurate imprint. If rolls with 100 mm core diameter are processed, an adapter is recommended.
8 Internal rewinder
Peel-off versions allow to rewind labels or carrier materials with or without a cardboard core. The three-part tightening axle provides easy material handling.
9 Rocker
When printing is started, the spring-mounted rocker with pulleys made of Teflon dampens the tension and therefore improves accurate imprint.
10 Material guide
It is mounted on the rocker. The stop is adjusted to the edge of the label with the rotary knob.
Operation panel
Intuitive and easy operation with self-explanatory symbols to configure the device setups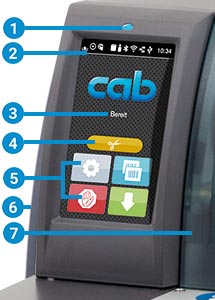 1 LED signal: Power ON
2 Status bar: Data reception, Record data stream, Ribbon warning, SD memory card, USB memory stick plugged in, Bluetooth, WLAN, Ethernet, USB Slave, Time
3 Printer status: Ready, Pause, Number of printed labels per print job, Label in peel-off position, Awaiting external start signal
4

Periphery buttons:
Cutter/perforation cutter: direct cutting
External rewinder: winding outside or inside
Tear-off or peel-off mode: print the next label
Applicator: label application
5 Operation

Jump to menu

Reprint last label

Interrupt and continue print job

Stop and delete all print jobs

Label feed
6 USB slot for the Service Key or a memory stick, to load data in the IFFS storage
7 USB WLAN stick 2.4 GHz 802.11b/g/n included as an extra item in the scope of delivery;
In hotspot mode it is possible to directly connect a mobile device with the printer via WLAN.
---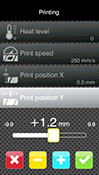 Print position Y
Fast setup with a slider, fine setup with ± keys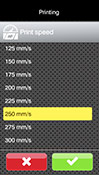 Print speed selection
via scroll function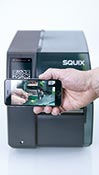 Video tutorials
Scan QR code with a mobile device and watch the explanatory video
Print heads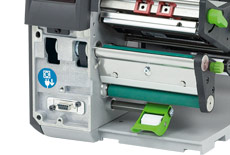 All print heads are freely interchangeable at equal width. They are automatically detected and calibrated by the CPU.
Major data such as running performance, maximum operating temperature and heat energy are directly stored in the print head. The data can be read at the plant.
Print heads for SQUIX 2, SQUIX 4 - 300, 600 dpi
for a sharp-edge print image
for type plates with small fonts, graphics and material marking with high energy needs
Print heads for SQUIX 4.3, SQUIX 6.3 - 203, 300 dpi
durable, for rough surroundings and thermal direct printing
Maintenance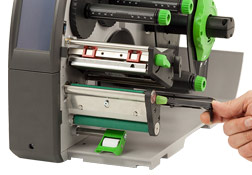 Label sensor
It can be unlocked with finger pressure and pulled out for cleaning.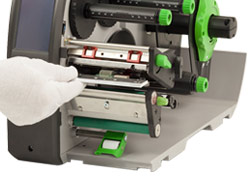 Print head
Easy exchange in few simple steps. Adjustments or setups are basically not necessary.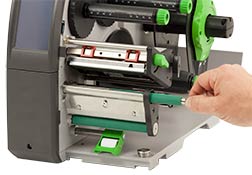 Print roller
It can be easily unlocked with a screw for cleaning or replacement.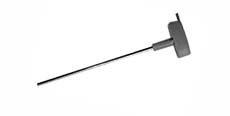 Assembly tool
ONE tool is provided with the printer to replace all components or to mount periphery.